I
t's not so much what you have left on your media device, it is what British Intelligene plant on it, you should be concerned about.
GCHQ Intelligence officers given immunity from hacking laws, tribunal told
Legislative changes exempting law enforcement officers from ban on breaking into people's digital devices were never debated by parliament, tribunal hears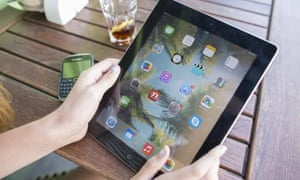 Hacking into private computers, laptops or tablets appears to fall under a general class permission for such activity, Privacy International said. Photograph: Graeme Robertson for the Guardian

Owen Bowcott Legal affairs correspondent
Friday 15 May 2015 18.52 BSTLast modified on Saturday 16 May
GCHQ staff, intelligence officers and police have been given immunity from prosecution for hacking into computers, laptops and mobile phones under legislative changes that were never fully debated by parliament, a tribunal has been told.
The unnoticed rewriting of a key clause of the Computer Misuse Act has exempted law enforcement officials from the prohibition on breaking into other people's laptops, databases, mobile phones or digital systems. It came into force in May.
The amended clause 10, entitled somewhat misleadingly "Savings", is designed to prevent officers from committing a crime when they remotely access computers of suspected criminals. It is not known what category of offences are covered.
The act is primarily deployed to provide legal cover for domestic investigations. It is thought that individual warrants are not being obtained to justify each inquiry. Different legislation – section 7 of the Intelligence Services Act, nicknamed the "James Bond clause" – is believed to permit activities abroad that would otherwise be illegal.
Addressing the Investigatory Powers Tribunal, which deals with complaints about the intelligence services and surveillance, lawyers for Privacy International said they had only been informed of the alteration earlier this week.
The effect of this amendment has passed everyone by … It was hidden in plain sight.Ben Jaffey, Privacy International
"We had previously thought [hacking] in this country to be unlawful," said Ben Jaffey, a lawyer representing Privacy International. "The effect of this amendment has passed everyone by. Attention was not called to it during the parliamentary process, which may not have been accidental. It was hidden in plain sight."
Hacking is more damaging than mere interception of messages, Jaffey told the tribunal, because it involves unlocking a backdoor into someone else's computer system which was meant to be secure. It is not clear whether the damage done is always made good following a hacking attack.
Hacking into someone's computer appears to take place under a general class permission for such activity, Jaffey said. "There's something profoundly objectionable in bugging and burglary of computers without any [individual] authoritisation from the secretary of state," he told the IPT.
Changes to the Computer Misuse Act were introduced by the Serious Crime Act 2015 which received royal assent on 3 March 2015. No reference to the true impact of the changes was made in the parliamentary explanatory notes that accompanied the bill, according to Privacy International.
Nor was there any public debate, the organisation claimed. "No NGOs, regulators, RIPA commissioners, the Information Commissioners Office, industry, or the public were notified or consulted about the proposed legislative changes," it added.
"The underhand and undemocratic manner in which the government is seeking to make lawful GCHQ's hacking operations is disgraceful," Eric King, the organisation's deputy director said after the hearing. "Hacking is one of the most intrusive surveillance capabilities available to any intelligence agency, and its use and safeguards surrounding it should be the subject of proper debate.
"Instead, the government is continuing to neither confirm nor deny the existence of a capability it is clear they have, while changing the law under the radar, without proper parliamentary debate."
Professor Peter Sommer, one of the UK's leading experts in the Computer Misuse Act, said he had also only belatedly discovered the changes to the legislation. Altering the law without proper public debate, he said, risked "building up unnecessary mistrust".
"I wasn't aware of it until recently," he said. The previous clause dated from a time when police officers physically seized computers and examined them in a police station.
Security services capable of bypassing encryption, draft code reveals
"Now if you have remote access," he said, "you can hack into a computer and put in a Trojan horse program. I have looked at the government notes covering the changes and it was extremely obscure guidance. But they are giving highly intrusive powers to go into someone else's computer.
"If this had been done properly, people would have said we want a principled debate about this. There's a danger now that [lawyers] will say that the police or spooks have put things into their clients' computers."
In February, the Home Office did publish a "draft equipment interference code of practice" which explained how law enforcement officials could track down serious criminals and terrorists by hacking into their computers.
It did not, however, at that stage explain that the Computer Misuse Act was being altered.
Last May, Privacy International, along with seven internet and communications service providers, filed complaints with the IPT challenging GCHQ's hacking activities. The full complaint is due to be heard in the autumn.
The claim asserts that GCHQ's actions were both unlawful under the Computer Misuse Act, which criminalises hacking, and that there was not sufficiently detailed legal authority to make GCHQ's hacking "in accordance with law" as required by Article 8 of the European Convention on Human Rights.
The removal of criminal liability for enforcement officers also, it is alleged, opens the way for the intelligence agencies to conduct cyber-attacks within the UK.
In a separate development, the Home Office has published guidance on the acquisition of communications data relating to privileged information held by lawyers, journalists, doctors and others.
A Home Office spokesperson said: "There have been no changes made to the Computer Misuse Act 1990 by the Serious Crime Act 2015 that increase or expand the ability of the intelligence agencies to carry out lawful cyber crime investigation. It would be inappropriate to comment further while proceedings are ongoing."
GEORGE, THERE ARE GOING TO BE TEARS WELL BEFORE BEDTIME
Precisely as the right-wing Institute for Fiscal studies predicted before the Election, George Osborne is now under pressure (from the Institute of Directors) to "slash spending". The IoD has gone one on from "cut": perhaps next time the verb will be "decimate". And then "obliterate".
Note that few if any of the IoD's members will suffer a jot from the cuts. Also note that the IoD is specifically ruling out tax rises….which would, of course, hit most of their members very hard indeed.
The Chancellor has promised yet another budget in the summer (we might just as well make them quarterly and have done with it) and has said it will be "a budget for working people". This is another little weasel phrase invented by the Aussie spin doctor Lynton Crosby; what it means is "people in a full-time contractual private sector job". As only 22% of us are these days, it isn't going to be terribly good news for the unemployed, the State retired, or indeed the NHS: get out of that, Jeremy Hunt.
I think a few more people need to take time out here and study what exactly is going on rather more fully. In a nutshell, it is this: because the ConDem coalition spectacularly failed over the last five years to (a) wipe out the UK deficit (b) diversify the UK economy out of financial services and (c) gain new export contracts beyond the EU, those people out of jobs as a result of that failure, or on benefits, or ill will be asked to cough up. The business organisation members who aided in this abject failure, however, won't be asked to cough up. They'll just see their salaries and bonuses continuing to go up.
So, Government screws up and business acts as its accomplice; labour force, the ill and the poor foot the bill.
Sorry to repeat the question for the 50

th

time, but you see so far I haven't had an answer. As a neoliberal economy is based on eternal consumption and a ready supply of credit, how are lower incomes and dried-up banks going to produce more consumption?
They can't, period. But still the financial press calls the UK's Q1 slowdown 'disappointing' (to whom – idiots?) and still the talk of China being 'back on course' gets blown off course every time data emerges from Beijing….a deceleration rate of 5.2% YOY being the latest one last Friday.
Look around at the overall situation and think: until very recently we had a situation where people were paying governments to borrow money off them. Banks are still offering 'savers' virtually no interest on their savings. There isn't a Western economy booming anywhere: not one. But not a single Western bourse is reflecting that fact: not one. Every week another lunatic (usually German) insists that the eurozone is turning the corner. No it isn't: it's in the ER room with severe brain damage being kept alive by experimental drugs.
A 2% rise in interest rates – just 2% people – would move US debt management expenditure from 2 in 5 of all tax dollars to $2.50. In 1976, the UK's deficit to gdp ratio was 6%…but we had to call in the IMF to avoid insolvency – because interest rates were a staggering 14.25% average during the year.
The latest UK projected deficit in 2015 is 4.8%.

BUT

that's with near-zero interest rates. Just a rise of 1.5% would would take our deficit higher than it was when we nearly went bust under Labour. An even remotely normal level at 4% would double it. At that point, bond yields would go into orbit around Saturn.
When the Conservatives came to power in 2010, the national debt was £900bn. It's closer to £1.6trillion today…80% higher in five years.
No matter what any politician tries to tell you, our current woefully negative trading account means that the UK National Debt is as unrepayable as that of Greece. The big difference being that we have far, far more to lose than they do.
There is no way further spending cuts can have any effect on that, because the welfare and health bills for government aren't the real problem. The real problem is an unreformed economy ludicrously overdependent on financial services, and a Conservative administration with almost no commercial experience in its ranks to switch to high-margin manufacturing and retraining of the workforce to make stuff.
The money saved by Osborne was a minute part of even the deficit reduction. In relation to the debt, the best analogy I can offer you is that more expenditure cuts now would be like putting one pipette into the Pacific in an effort to stem rising sea levels. The idea that austerity on the one hand is part of the cure for long-term British commercial and business failure is obscenely infantile.
The Conservatives know this, but don't know what to do except take away our right to resist. The Labour Party doesn't even understand it in the first place. Nigel Farage probably gave up on this piece after paragraph six. And Nicola Sturgeon cares not for any of it just so long as she gets independence for the Scots.
That is the depth of our political crisis in 2015. Only a drastic change in socio-economic culture, education and our Constitutional processes can even begin to change it.