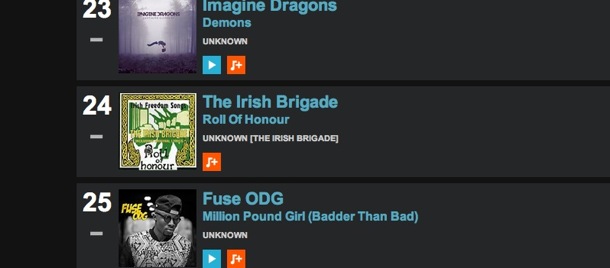 One fan has already been found guilty of contravening the Offensive Behaviour at Football and Threatening Communication (Scotland) Act for singing 'Roll of Honour'
CELTIC'S 'Fans Against Criminalisation' (FAC) have scored a big success by hitting Number 24 in Britain's Official Top 40 Singles Chart with the release of The Irish Brigade's H-Block song Roll of Honour as a protest against Scotland's suppression of republican songs sung at soccer matches.
FAC asked fans to get Roll of Honour into the Top 40 by downloading it from iTunes all this week and by Saturday to highlight what they argue is the "absurdity" of the Offensive Behaviour at Football and Threatening Communication (Scotland) Act.
The legislation is supposed to be aimed at tackling sectarianism on the terraces but Celtic fans say the Act has "criminalised" Celtic supporters by police action against the songs they sing, including Roll of Honour,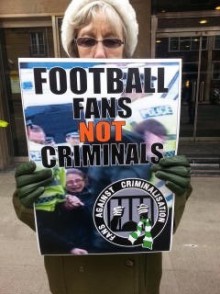 One fan has already been found guilty of contravening the Offensive Behaviour at Football and Threatening Communication (Scotland) Act for singingRoll of Honour. Another fan is being held on remand accused of the same offence. There is a backlog of Celtic fans awaiting trial for the same reason and proceeds from the single will aid the legal defence fund for fans.
Fans say this particular song is a ballad about civil resistance and a struggle for basic human rights that has been a favourite of the Celtic support for over a decade.
In a statement on the Celtic Trust website, the fans say:
"FAC contend that it is a damning indictment of the Scottish political and judicial system that legitimate expression of political opinion and cultural heritage within the context of a football match is now enough to result in a criminal conviction.
"We urge the Celtic support to download this song to embarrass those who seek to criminalise us to demonstrate that we stand by those who are being arrested at their homes and dragged through the courts and that we will not tolerate the continual harassment of our fellow fans at the hands of Police Scotland."
"For those based elsewhere," they said, "FAC still urges people to aid this campaign by downloading this single which will help create a greater awareness of this issue whilst contributing to the FAC Legal Defence Fund.
"We all have a part to play."
Download Roll of Honour here.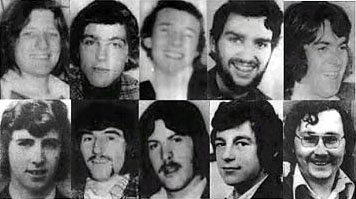 Roll of Honour lyrics
Read the roll of honour for Ireland's bravest men
We must be united in memory of the ten,
England you're a monster, don't think that you have won
We will never be defeated while Ireland has such sons.
In those dreary H-Block cages, ten brave young Irishmen lay
Hungering for justice as their young lives ebbed away,
For their rights as Irish soldiers and to free their native land
They stood beside their leader – the gallant Bobby Sands.
Now they mourn Hughes in Bellaghy,
Ray McCreesh in Armagh's hills
In those narrow streets of Derry, they miss O'Hara still,
They so proudly gave their young lives to break Britannia's hold
Their names will be remembered as history unfolds.
Through the war-torn streets of Ulster the black flags did sadly sway
To salute ten Irish martyrs the bravest of the brave,
Joe McDonnell, Martin Hurson, Kevin Lynch, Kieran Doherty
They gave their lives for freedom with Thomas McElwee.
Michael Devine from Derry you were the last to die
With your nine brave companions with the martyred dead you lie
Your souls cry out: "Remember, our deaths were not in vain.
Fight on and make our homeland a nation once again!"
LINK
Thousands march for language rights
Protest held to highlight treatment by Governments north and south of Irish-language speakers and Gaeltacht communities
Thousands took to the streets of Dublin city centre this afternoon to protest against the treatment by Governments north and south of Irish-language speakers and Gaeltacht communities.
Organisers said some 10,000 people took part in the march which started at the Garden of Remembrance in Parnell Square and marched down O'Connell Street before gathering for a rally in front of Dáil Éireann.
The crowd, with many wearing red, heard from a number of speakers who condemned the lack of public services available in Irish.
Billed as a celebration of Irish on the streets of Dublin, Lá Mór na Gaeilge attracted participants from all parts of the island and was the largest such demonstration since the 2005 campaign to elevate the status of Irish in the
European Union
.
Citing the decision in December by language commissioner Seán Ó Cuirreáin to resign in protest over the failure by Government to implement legislation protecting the rights of Irish speakers, Conradh na Gaeilge general secretary Julian de Spáinn said Irish language speakers were "red with rage" at how speakers are being treated by the State.
"We will continue to campaign our public representatives until we achieve fairness and equality for the Irish-speaking and Gaeltacht communities throughout the island of
Ireland
. "
Lá Mór na Gaeilge was organised by Conradh na Gaeilge and marks the beginning of a campaign to seek equal treatment for Irish language speakers north and south.
"We are planning a march on Sunday week in Conamara and in Gaoth Dobhair to coincide with the resignation of the Coimisinéir Teanga and on the 12th of April we are planning a large demonstration in Belfast," Mr de Spáinn said afterwards.
"In addition we are going to focus on the local and European elections. There is a lot to do but today was just a beginning."
Mr de Spáinn said Conradh na Gaeilge had responded to an offer of a meeting with Taoiseach Enda Kenny and was awaiting a response from the Taoiseach's office.
We reserve the right to remove any content at any time from this Community, including without limitation if it violates the
Community Standards
. We ask that you report content that you in good faith believe violates the above rules by clicking the Flag link next to the offending comment or by filling out
this form
. New comments are only accepted for 10 days from the date of publication.