IN A RECENT CULTURE DEBATE A BBC SPOKESPERSON ASSERTED "
In a recent debate on culture, a well known BBC spokesperson, with a perfectly straight face and stiff upper lip, asserted - "Jews are instinctively miserly, Arabs are inherently deceitful, the Irish born thick, the Scottish neanderthal and the Germans lack a sense of humour. All of this is rubbish of course, however it is not rubbish to introverted English racists, who work under the cover of being British or use their indoctrinated BBCspeak.
Scottish independence: Hundreds protest over 'BBC bias'


Hundreds of people gathered at BBC Scotland's headquarters in Glasgow to protest over the corporation's coverage of the referendum.

The protestors claimed an "unhealthy bias" existed in favour of the pro-Union Better Together campaign.

Organiser Moira Williams said there was "increasing discontent" about the way the independence campaign was being represented by the BBC.

However, the BBC said its referendum coverage was "fair and accurate".

Police said there was a maximum of 350 protesters, who carried flags and banners outside Pacific Quay, the BBC's Glasgow base.

Speaking to the BBC, Ms Williams said: "We organised this event because we are witnessing increasing discontent over BBC referendum coverage and we felt we needed to stand against this unhealthy bias.

"Whether Scotland votes 'Yes' or 'No', let it be based on facts provided in a fair and accurate way, not because people have been misguided."

She added: "The BBC should be doing what it says in its job description - being unbiased and impartial."

A spokeswoman for BBC Scotland said: "Our coverage of the referendum story is fair and impartial in line with the editorial guidelines."

The Scottish independence referendum takes place on 18 September 2014.

Voters will answer the Yes/No question: "Should Scotland be an independent country?"
Last Edit:
Jan 21, 2013 at 10:27am by
lbak
vnnforum.com/showthread.php?t=137587&page=6
I


n 1977, Israel's Prime Minister Menachem Begin had a meeting with Egyptian president Anwar Sadat.




This led to 'peace' between the two countries.




Sir Jimmy Savile received a medal from Israel in 1979, for services rendered.




Reportedly, Savile visited Israel in 1975 to advise Israel's President Ephraim Katzir on a matter of security.




Reportedly, Savile told the Israeli cabinet that he "was very disappointed: the Israelis had won the Six Day War but they had given back all the land, including the only oil well in the region, and were now paying the Egyptians more for oil than if they had bought it from Saudi Arabia."




Reportedly, Savile visited Israel a number of times to offer his advice.




A Manchester businessman, Benny Sternberg, revealed that "Savile had been approached to explore the possibility of a meeting between Sadat and Begin because of his friendship with the family of the Egyptian president's wife Jehan."




"Savile claimed during an interview with The Guardian newspaper's Simon Hattenstone that he told Professor Katzir: 'I'm very disappointed because you've all forgotten how to be Jewish and that's why everyone is taking you to the cleaners … You won the Six Day War, you took all that land, you gave it all back, including the only oil well in the area, and now you're paying the Egyptians for the oil you already had.'




"Savile also maintained that the president invited him to repeat his words at a Cabinet meeting. 'They asked my opinion about a couple of things, to which I said, 'Nothing's impossible'. They did exactly what I suggested and it worked out 100 per cent successful.'"




"The occasion was confirmed partly by Roger Ordish, producer of Jim'll Fix It, who said: 'I know he met the President when we were in Israel in 1975.'




"Sir Jimmy always said he had berated the Israeli Cabinet in 1975 for being too soft after the Six Day War."




Jimmy Savile had both a Royal and Papal knighthood (Order of St. Gregory the Great)

He was a Knights Hospitaller (also known as the Sovereign Military Hospitaller Order of St. John of Jerusalem of Rhodes and of Malta, Order of St. John, Knights of Malta, and Chevaliers of Malta)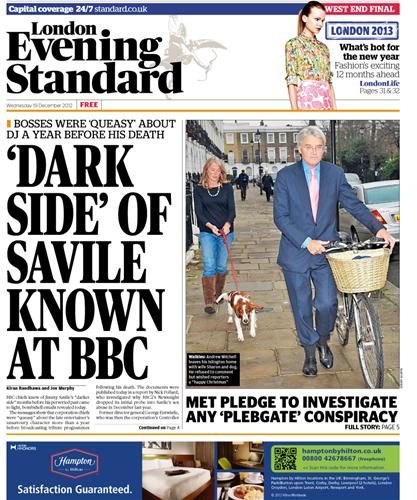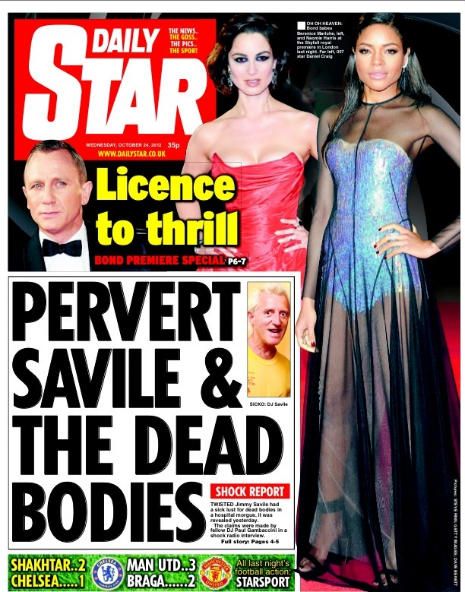 Dec 29, 2012 at 2:06pm
Some background on Jimmy Savile....